Kellogg School of Management at Northwestern University Completes Seven-Year Plan for Transformation with Opening of New Global Hub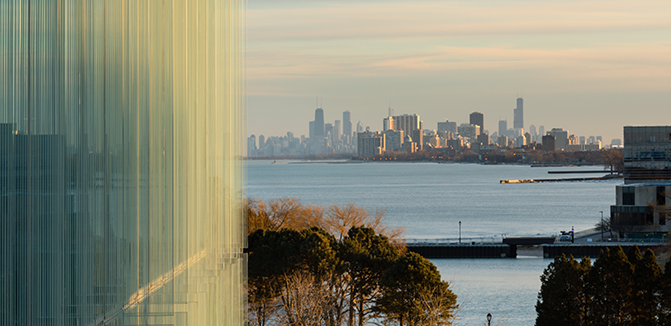 March 28, 2017
Click here to view Kellogg School of Management
The Kellogg School of Management at Northwestern University begins classes this week in its new flagship building on Northwestern's Evanston campus. The completion of the innovative Global Hub caps off the school's seven-year plan for transformation and continues its legacy as a pioneer in business education. Kellogg recently surpassed $330 million toward its $350 million goal in its Transforming Together fundraising campaign, with the Global Hub serving as the most visible evidence of the campaign's success.
"The generosity of many alumni and friends brought the Global Hub to life. This building represents everything that Kellogg stands for – an ethos of collaboration, grounded wisdom and pioneering vision," said Sally Blount, dean of the Kellogg School of Management. "It speaks to our ability to create an environment – physical, emotional, cultural – that can attract, shape and catalyze an unparalleled global community of courageous and collaborative leaders."
The Global Hub also houses the economics department at Northwestern's Weinberg College of Arts and Sciences. "The Global Hub provides a spectacular new home for Kellogg and the department of economics and symbolizes Northwestern's commitment to these key areas of the University," said Northwestern President Morton Schapiro. "Both are jewels in Northwestern's crown and the fact that they will continue to be located in the same building, as they are now, maintains the close connection between them. We are truly excited to open this wonderful new building."
"The new Global Hub helps us strengthen the ties linking the college and Kellogg," said Weinberg College Dean Adrian Randolph. "This move especially enables our economics department to continue to collaborate with our colleagues in the business school, and therefore enhances our research and teaching in this important area."
The Toronto-based architectural firm of Kuwabara Payne McKenna Blumberg (KPMB) designed the Global Hub with the functionality to meet the needs of today's learning environment and to anticipate those of tomorrow. Located along the shores of Lake Michigan, the 415,000-square-foot building has a distinctive two-atrium design and features a variety of signature learning and convening spaces:
Collaboration Plaza: A three-story, 6,000-square-foot central atrium, Collaboration Plaza is a meeting place for the entire Kellogg community. Interaction is facilitated by features such as two sets of 34-foot-wide Spanish Steps, named for the famed staircase in Rome, surrounded by soft benches and tables serving as informal gathering places for students, faculty and visitors.
Faculty Summit: Above Collaboration Plaza is the second atrium, which is the two-story, 9,000-square-foot Faculty Summit. A piazza in the center is designed to encourage partnership between faculty from various disciplines as well as informal discussion. Surrounding this piazza are six glass-walled seminar rooms located on two stories, seating 20 to 60 people each.
White Auditorium: The building features the two-story White Auditorium, the Global Hub's major convening space, set against a stunning backdrop of Lake Michigan and the Chicago skyline. This flexible venue accommodates up to 300 people in a variety of formats – from seated dinners and receptions to CEO "fireside chats" to conferences and panel discussions – bringing academic, business and civic leaders together to discuss the world's complex business challenges. The auditorium is named in recognition of a gift from Miles D. White, Northwestern trustee, and Kimberly White.
Flexible Classrooms: The classrooms can be configured so that tiered lecture-style classrooms convert to flat classrooms, and some rooms can be subdivided into smaller spaces or enlarged by removing walls between two classrooms. Advanced technology is embedded throughout to foster new forms of learning and idea generation. Select classrooms have telepresence technology, enabling MBA students at other locations, such as the Miami campus, to beam in and fully participate as if they were in the classroom. This technology also enables Kellogg to feature visiting speakers and guest lecturers who can appear remotely.
Galvin Family Design Wing and Conference Center: The Global Hub has a dedicated space for hands-on experimental learning, including the 7,800-square-foot Galvin Family Design Wing and Conference Center, which has four design studios. This space is named in recognition of a gift from Christopher B. Galvin '73, '77, Northwestern trustee, and Cynthia B. Galvin '78.
Not only is it visually stunning with its curved interior and exterior walls mirroring its lakefront setting, the Global Hub is also environmentally friendly, relying on a geothermal area to provide 60 to 70 percent of the energy to heat and cool the building, and the building is on track to receive gold LEED certification.
Gordon Segal '60, chair of the educational properties committee for Northwestern's Board of Trustees, a Kellogg graduate and co-founder of Crate & Barrel, played a leading role in the design and development of the building.
"The Global Hub epitomizes the legacy, spirit, ambition and vision of Kellogg," said Segal. "This is truly a global hub as it blends design elements from 17 countries – from German ceilings to Japanese tiles – and will help Kellogg continue to attract the best students, faculty and administration from around the world."
Dean Blount added, "We've transformed business education, and we're doing it again. This building symbolizes that in the most potent and powerful way."