If Art Lovers Can Find Bilbao, Why Not Saskatoon? The Wall Street Journal on the new Remai Modern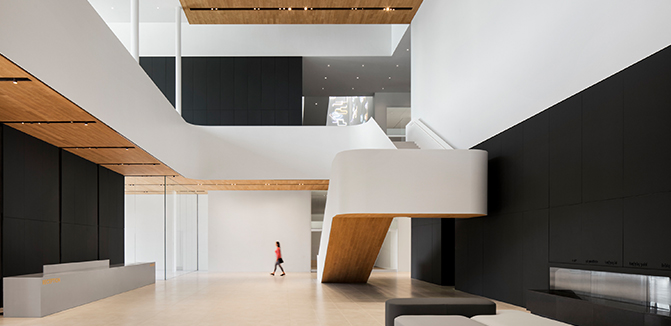 September 18, 2017
Click here to view The Wall Street Journal
Settled among the wheat fields and mineral mines of the Canadian plains, the city of Saskatoon is hardly a hotbed for contemporary art. Yet having watched art lovers descend on out-of-the-way locales like Arkansas' Bentonville and Colombia's Bogota, Saskatoon is determined to join the global circuit this fall.
For bait, the Canadian government spent $63 million on a 130,000-square-foot, Jenga-like museum complex sheathed in copper and glass called Remai Modern. The space, designed by Toronto firm KPMB, is named after a local collector, Ellen Remai (pronounced "RAY-mee"), who gave additional funds and art. It opens Oct. 21 in downtown Saskatoon.
The inaugural show, "Field Guide," will survey some of Canada's best-known contemporary artists like Vancouver's Stan Douglas, Ian Wallace and Jeff Wall while also playing up the museum's intentions to commission and show international art—a local-global mix that's become the norm for destination museums.
"Our art may speak with a Canadian accent, but we need to be fully engaged with the international scene," said director Gregory Burke.
Mr. Burke said the museum will be the first in Canada to show Mr. Douglas's "Secret Agent," a 2015 film about a terrorist plot loosely inspired by a Joseph Conrad novel. The film plays in snippets across six screens arranged so that viewers can walk in and around the scenes. The effect is hypnotic, like "being inside the movie," Mr. Burke added.
The museum also plans to showcase Mr. Wallace, a pioneering conceptual photographer known for shooting everyday city scenes and hanging them beside monochrome canvases—a combination that serves as a visual segue from painterly abstraction to street photography. One signature example in the show is 2011's "At the Crosswalk IX," in which images of two businesspeople at a Vancouver intersection face each other across a pair of blue and gray canvases. The show will also include a lightbox image of a blacked-out window by Mr. Wall, a former student of Mr. Wallace.
Mr. Wallace said Canadian artists aren't typically as curious about exploring their national identity as U.S. artists—or museums—so Remai's focus could help shape the art world's perspective on Canadian art, including its indigenous and expatriate artists. "We don't wave the flag that much," Mr. Wallace said, "but regionality matters. It makes the work authentic."
In the future, watch for the museum to organize shows that tease out the who-knew role that Saskatoon's University of Saskatchewan campus played when it invited major abstract-expressionist critic Clement Greenberg to host artist workshops in the nearby Emma Lake area. The retreats were later led by major artists like Barnett Newman and Donald Judd in the 1950s and 1960s.
Minimalist Agnes Martin was also born just outside of town, making her paintings of pale lines a "top priority" on the museum's wishlist, Mr. Burke said. For now, he said the museum is paying homage by showing the Martin-like drawings and "Dear Agnes" diaries of a local artist, Tammi Campbell.
The museum also invited several rising-star artists like Pae White and Ryan Gander to interact with the new building and the roughly 8,000-piece modern art collection it inherited. These include 406 Pablo Picasso linocut prints donated by Ms. Remai, once the biggest set in private hands.
To find Ms. White's "Lucky Charm" installation, look for the stairwell that's glowing like daylight, lit by 165 pieces of neon arranged in a pattern to evoke a mythical magical carpet, the museum said.
Mr. Gander's "FieldWork" installation is more subtle but no less complicated: He will set a chair facing what appears to be a shop window that will feature an object, like a gutted Teddy bear or a black balloon, rolling past on a hidden conveyor belt. One of these 34 items will be a metal spike, the kind waitresses use to pile up paid receipts. Instead of meal orders, Mr. Gander will impale 148 copies of Picasso self-portraits that he painstakingly copied from actual Picasso prints in the museum's collection.
Mr. Gander said he initially approached the idea of copying Picasso as a lark, but the task took longer—and took more out of him—than he anticipated. "When you're wrestling with Picasso, you have to take it seriously," he said.