Elevating Home Technology From Smart to Genius / Thornwood House in Forbes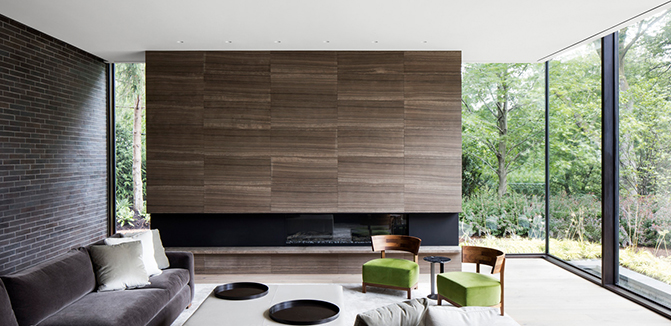 November 21, 2018
by Jeffrey Steele
The last decade has seen developers race to out-do each other in the state-of-the-art amenities they import into their projects. But no matter how extravagant residential amenities become, they can't obscure one simple fact. Few if any of the most "out-there" extras would be possible without cutting-edge technologies developed over the past several years.
That realization, along with 5G connectivity's anticipated arrival late this year, has many wondering what the latest leap forward in tech evolution will mean for smart dwellings. One thing's for sure: Watch for household staples like keys and remote controls to join coal bins and Victrolas on the list of items technological progression has rendered obsolete.
San Francisco luxury home developer Troon Pacific is merging technology and home design in each of its new homes at a development called Residence 2680. Troon Pacific incorporated a Savant home automation system that controls thermostats, audio, lighting, window shades, TV viewing and other home activities via tablet and mobile devices from anywhere.
"Troon Pacific is based in the San Francisco Bay area, the technology epicenter of the world, which is one of the reasons we integrate cutting-edge technology into all of our homes," says Troon Pacific CEO and founder Gregory Malin. "We create elevated single-family homes with technology that provides security, energy efficiency and an ease of living for homeowners. Wellness is one of the most valuable benefits of the technology we use because it helps create a healthier lifestyle. One of the greatest luxuries in life, besides our health and time, is the ease of living. Making life simpler and less complicated accomplishes that as long as the right, discerning technology is around you."
A continent away, at the center of New York City's Financial District, luxury apartment community 19 Dutch is giving its residents the most up-to-date smart home technology. Butterfly MX, the first smartphone video intercom system, is installed at the front entrance to enable guests to bypass the traditional check-in. The technology offers double convenience for residents and their guests accustomed to a 24-hour attended lobby. In addition, through an app, residents can control several functions, including the temperatures and lighting of their apartments as well as remote door access.
"Our intention when designing 19 Dutch was to create spaces for the future that redefine access and convenience in a rental building," says Jason Hill, senior marketing director at Douglas Elliman Development Marketing, the exclusive leasing and marketing firm.
"In this specific case, smart home technology has become the new amenity. Residents value smart home features that save time and provide a better quality of life. Integrated technology such as Butterfly MX, remote door access as well as smart thermostats and lights, are all controlled through apps that appeal to the residents at 19 Dutch. Home automation allows residents to stay connected and to control multiple aspects of their homes at all times, from anywhere."
Toronto's KPMB Architects-designed Thornwood House blends into its natural surroundings with its design based on the transcendental number "phi," or the Golden Ratio. The property's unifying character incorporates a smart integrated control system that includes interior climate control, security surveillance and automatic adjustment of lighting and window shades based on weather and other outside conditions. All are controlled by either a smart phone or a tablet application accessed through fixed iPads installed throughout the home.
Back stateside, a new Time Equities-developed rental building called 601 Bond in Grand Rapids, Mich. gives residents smart phone-enabled control over almost every part of their setting.  In addition to controlling temperatures in their units via Nest Thermostats, they can adjust lighting in every room, unlock and lock doors, access the building's intercom system and view guests or delivery people through a building-specific app. The features can be integrated with Amazon's Alexa to enable residents to voice activate smart features or to access them by phone.