Education Snapshots: Wilson School of Design, KPU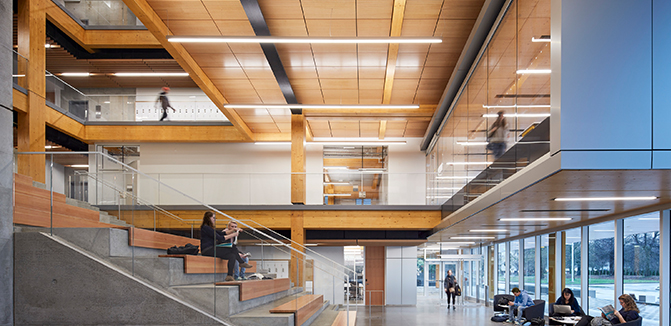 May 8, 2018
Click here to view Education Snapshots
KPMB Architects and Public designed Kwantlen Polytechnic University's Wilson School of Design located in Richmond, Canada.
With over 300 apparel companies, BC's lower mainland is a centre of excellence for technical fashion design. The vision for the new Wilson School of Design at Kwantlen Polytechnic University is to be the preeminent school for this industry on the West Coast. The broader purpose of the University is to fuel the local economy by generating a steady pool of talent and expertise in the fields of graphic design, interior design, fashion marketing, and fashion technology. Indeed, one of the key strengths sighted by industry of KPU graduates is their facility with this array of disciplines. The design of the new school fosters interdisciplinary communication and collaboration by positioning flexible design studios, labs, open offices and shared collaboration spaces across all five floors.
In a neighborhood dominated by cars and parking lots, the new Wilson School of Design represents a major step towards a healthier urban fabric. Responding to the new Lansdowne SkyTrain rapid transit station, the building's highly visible entry, framed by a covered porch, draws students and visitors into the campus and creates a new front door for KPU on Kwantlen Street. This new gateway dresses the stage for the future transformation of Richmond's Lansdowne Mall into a vibrant mixed-use community, and, given time, the world centre for technical fashion design education.
Architecture and urban planning are rife with descriptions drawn from the soft arts, for example 'creating a healthy urban fabric.' These metaphors are important reminders that buildings, and cities, are simply extra layers of protection that we wear and should therefore be just as breathable and comfortable. Our primary line of containment – our skin –performs a complex array of functions that are critical to human life. Clothes establish a second skin that shields, represents, and even performs. Similarly, the exterior skin of the Wilson School of Design serves multiple functions, providing protection from weather; regulating levels of air, light, and temperature; radiating the life and identity of the school outward; and reflecting Richmond's dramatic sky, symbolic of the creativity and optimistic futures held within.
Jane Jacobs observed that "new ideas need old buildings." From New York to Hong Kong, artists, designers, and architects set up studios in historic industrial warehouse districts. When an existing stock of historic warehouses are not available to repurpose, we can still employ the attributes that make this building typology so attractive for housing design activities.
The CNC-milled post-and-beam timber frame of the Wilson School adheres to the same robust, rational plan grid that affords traditional warehouses their exceptional versatility. This flexibility allows many different forms of occupation of the building, over a semester or across generations. A taut, glass curtain wall wraps the advanced wood structure. Varying degrees of reflectivity and transparency allow natural light into the majority of spaces while providing a responsible level of thermal resistance and mitigating glare and solar heat gain. Operable windows bring fresh air in while the central atrium acts as an exhaust plenum. Concrete floors provide radiant heating and cooling. In short, high ceilings, ample natural light, and fresh air provide student designers the headspace to dream, explore, test, and create. The project is on target to achieve LEED Gold certification.
As a signature gateway to KPU's Richmond campus and producer of a sophisticated industrial workforce, the new Wilson School of Design represents a significant contribution to the vision and development of the MetroVancouver region.