Dezeen ranks Remai Modern in "10 museums that are worth a visit for the interiors alone"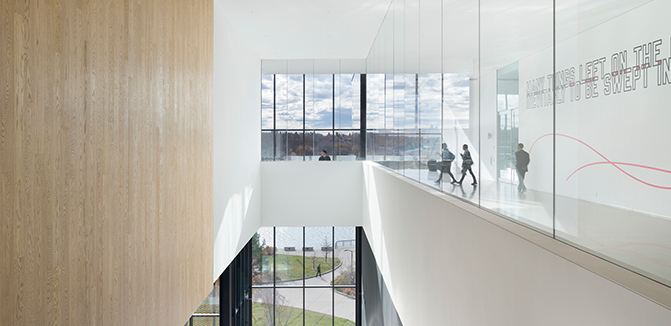 January 29, 2018
by Emily Wadsworth
After David Adjaye's African American history museum was named Design of the Year, we've trawled our Pinterest boards to find more museums with impressive interiors, from a subterranean Roman temple to a restored textile factory.
Smithsonian National Museum of African American History and Culture, USA by David Adjaye
The interior of Adjaye's museum is crafted from pre-cast concrete, timber and glass. Galleries feature high ceilings and concrete columns, which give an industrial feel to the space.
London Mithraeum, UK by Local Projects
A subterranean Roman temple was restored to create this museum below Bloomberg's headquarters in London, by the same studio that designed the exhibition for the National September 11 Memorial Museum in New York.
Louvre Abu Dhabi, UAE by Jean Nouvel
Jean Nouvel's Louvre Abu Dhabi features 8,000 metal stars, which overlap to form the geometric pattern of the dome oveheard. Sunlight filters through, throwing flecks of illumination onto the white blocks of the museum's interior.
Eight Tenths Garden, China by Wutopia Lab
Shanghai's cylindrical arts museum, inside cultural centre Eight Tenths Gardens, features a double-height gallery space. Enamelware objects, including basins and cups, are arranged around the outskirts of the interior.
Remai Modern Art Museum, Canada by KPMB Architects
The interior space of the Remai Modern Art Museum in Sakatoon, Canada, is arranged around a light-filled atrium with two huge openings, allowing access from both the road and river.
Zeitz Museum of Contemporary Art Africa, South Africa by Thomas Heatherwick
Thomas Heatherwick created South Africa's biggest art museum by hollowing out the inside of a historic grain silo building. The interior incorporates a network of 80 gallery spaces, circling around a 27-metre-high grain-shaped atrium.
Musee Yves Saint Laurent, Morrocco by Studio Kos
This museum's entrance hall has smooth white walls that are designed to evoke the velvet lining of an Yves Saint Laurent couture jacket. The space also features monochromatic stained glass windows, which are inspired by traditional Moroccan-style stained glass.
Massachusetts Museum of Contemporary Art, USA by Bruner/Cott & Associates
The Massachusetts Museum of Contemporary Art is situated within a restored old textile manufacturing factory. Cambridge-based Bruner/Cott & Associates kept the original rugged raw brickwork during the restoration project, to ensure the interior reflects the structure's history.
Guardian Art Centre, China by Ole Scheeren
The 1,700-square-metre gallery space of Ole Scheeren's new Guardian Art Centre incorporates moveable partitions and adaptable ceiling systems into its interior.
Skissernas Museum, Sweden by Elding Oscarson
The interior of the Skissernas Museum in Lund, Sweden, features clerestory windows and a reflective ceiling made from a hovering plate of mirrored aluminium. The aim was to create the feeling of an open-air courtyard.