Curbed Chicago: Northwestern opens new Kellogg Global Hub at its Evanston campus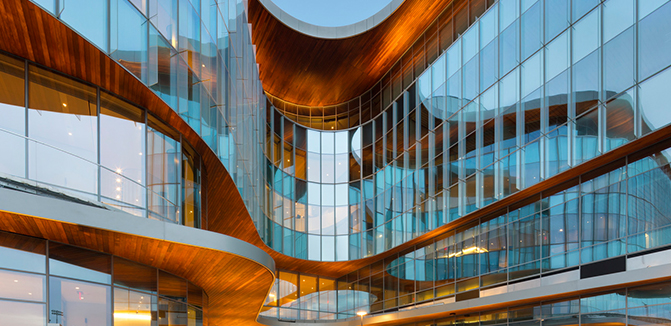 Article content
Click here to view Curbed Chicago
This past week, Northwestern University welcomed students to a new flagship building at its Evanston, Illinois campus. Known as the Kellogg Global Hub, the curvy 415,000-square-foot facility houses Northwestern's Kellogg School of Management as well as the economics department of the school's Weinberg College of Arts and Sciences.
Offering skyline views of downtown Chicago while drawing inspiration from the nearby undulating shoreline of Lake Michigan, the curvy design of the Global Hub comes from Toronto-based KPMB Architects. The six-level building is clad in glass, metal, and wood, and consists of four distinct interior volumes organized vertically in a butterfly-like arrangement above a common two-story base.
Much like the University of Chicago's upcoming Rubenstein Forum, the Kellogg Global Hub is created with multiple communal spaces of all sizes to foster conversations—both organized and spontaneous. This is reflective of a growing trend in higher education as more and more colleges and universities are looking for new ways to use the built environment to help students, faculty, and ideas to fraternize.
Central to this concept is Kellogg Global Hub's prominent three-story, 6,000-square-foot student-oriented "Collaboration Plaza" and communal "Spanish Steps." Directly overhead, a second two-story atrium with glass-walled seminar rooms known collectively as the "Faculty Summit" encourages partnership between faculty members from various disciplines. Even the building's outdoor courtyard is billed by its designers as a unique collaboration space.
The individual classrooms of the Kellogg Global Hub were crafted with flexibility in mind and configured so that tiered lecture-style lay-outs can be converted to flat floor plans and can be subdivided or expanded by adding and removing walls. The facility's 7,800-square-foot Galvin Family Design Wing and Conference Center features more meeting space and four studios geared towards hands-on, experimental learning.
Relying on geothermal energy to provide between 60 to 70 percent of its heating and cooling needs, Northwestern's latest trophy building was designed with environmental friendliness in mind. Other green features include the use of renewable building materials, installation of efficient fixtures, and floor plans that maximize natural light. The Kellogg Global Hub is targeting LEED Platinum certification.