Constructing Connectivity: interview with associate architect Kevin Thomas on Northwestern's Kellogg Global Hub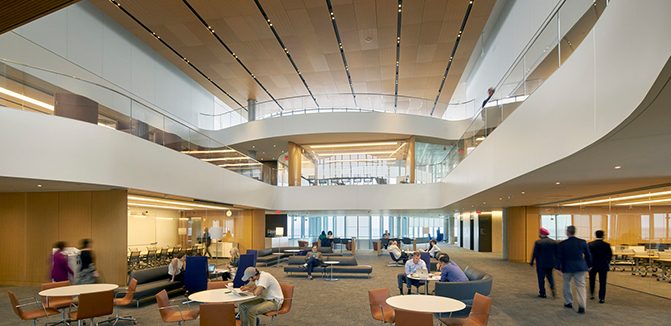 Article content
Click here to view North by Northwestern
At the core of Northwestern's rebranding campaign is the slogan "AND is in our DNA." Although a bit banal, the phrase informs the design of the renovated Kresge Hall and Kellogg School of Management's new Global Hub. The buildings are spaces built to bolster Northwestern's commitment to interdisciplinary collaboration and globalism: the textures, colors and curves of their interiors maximize the innovative ethos on campus.
Kresge Hall, headquarters for the Weinberg School of Arts and Sciences, was hopelessly outdated when architect Avi Lothan approached the building's redesign. A host of aesthetic issues, including brown-painted cinder block walls, plagued the old building. "It had been described virtually by everyone who used it as 'four stories of basement,'" Lothan says.
For the redesign, Lothan and his team set out to make Kresge a more open, inviting space by using light colors and surfaces. "All the public areas have an off-white floor, which is light reflective," he says. "In the areas outside the stairs, we drilled through to create a skylight shaft to provide vertical light at the center of the building."
Lothan designed the new interior to be more intuitive. The three stairwells are color-coded orange, yellow or red, each corresponding to a different part of the building. In this way, students can more easily orient themselves. To achieve a balance between durability, maintenance and appearance, Lothan and his team used materials like porcelain panels, which are sturdy but thin. "This was a way to get that kind of durability with a much more aesthetically appropriate finish," Lothan says.
The building's classrooms, small and engineered to absorb sound, promote high access to the best faculty in the most direct way. The desks, light and free, facilitate group discussion and collaboration.
"Our measure of success is that it feels like it was always meant to be there," Lothan says. "I hope that most people who use the building now couldn't think of it existing organizationally any other way."
For Kevin Thomas, architect of Kellogg School of Management's new Global Hub, it was imperative the building was a place that could "foster new forms of learning, idea generation and collaboration among Kellogg faculty, staff and students."
The design of the building, distinctly curvilinear, has four loft spaces oriented around two central atria. "A building that supports global thinking needs to be open, excessively public and connected visually," Thomas says.
These atrium spaces, Thomas says, are analogous to a town plaza, where people can meet. The open layout of the building, along with the maximization of natural light, encourages a healthier work environment. "People feel better in spaces where they are connected to their surroundings and have access to light," Thomas says. "We added clerestories to allow interior corridors to borrow light from the exterior offices." Clerestories, raised portions of the interior that admit light, also create a sense of weightlessness.
The central stairs of the building provide a place for impromptu meetings and lectures. The stairs, which serve as seats, maximize views to the south of campus and to the Chicago skyline. This feature of the building facilitates a sense of place and a connection to the city beyond the building's undulating glass walls.
Thomas notes the role of Northwestern's academic interiors as a catalyst for collaboration and innovation. "Every space is designed to spark creativity, promote learning and social interaction, and anticipate present and future use," Thomas says.