Chris Couse, Founding Principal, inducted as a 2019 Fellow by the College of Fellows of the Royal Architectural Institute of Canada (RAIC)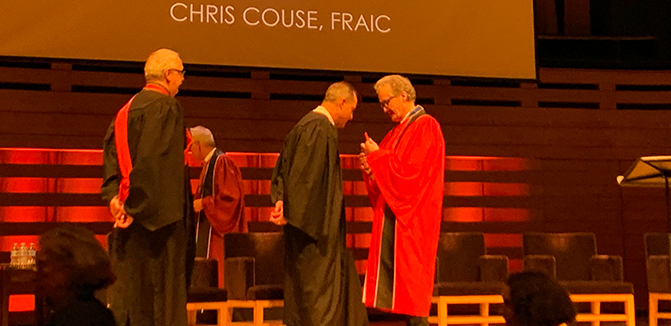 Article content
TORONTO – KPMB Architects' Founding Principal Chris Couse has been named 2019 Fellow by The College of Fellows of the Royal Architectural Institute of Canada (RAIC) in recognition of his outstanding achievement in design excellence and distinguished service to the profession.
Chris has played a critical leadership role since KPMB was formed in 1987 and has had a fundamental and influential contribution to KPMB's ability to consistently and continuously design and deliver architectural excellence. Chris offers over 35 years of proven, successful experience in the design, management, and delivery of projects distinguished for the integration of high-quality design and sustainability.
Among Chris' notable achievements are his projects in the realm of culture, specifically art and performing arts. Performing arts projects throughout North America include Orchestra Hall in Minneapolis, the Young Centre for Performing Arts in Toronto's Distillery District, the Arthur Miller/Walgreen Drama Center at the University of Michigan, the Goodman Theatre in Chicago, and the Adams Center and Sprague Hall at Yale University. Much of this work has received awards for design excellence and innovation, including Architectural Record's 'Good Design is Good Business' Award for both Orchestra Hall in Minnesota and the Young Centre in Toronto.
In parallel to the cultural projects, Chris has also developed deep expertise in the design of state-of-the-art tall buildings. This work includes the LEED Gold NC certified 18 York Street (PwC Tower) and Bremner Tower as part of the Southcore Financial Centre in Toronto, as well as 180 Queen West, which included the Federal Judicial Centre fit-up, the first Canadian project to receive a LEED CI certification.
His current projects include renovation and expansion projects for the historic Massey Hall in Toronto, the Alumnae House Renovation project at Smith College in Northhampton, Massachusetts, the reimagination of the Eric Harvey Theatre and a new Performing Arts Complex for Banff Centre for Art and Creativity, and the Contemporary Calgary Art Gallery Renovation and Expansion which involves the adaptive reuse and extension of the Centennial Planetarium.
KPMB Architects is a leading Canadian practice based in downtown Toronto. The firm continues to diversify and enrich its portfolio, while maintaining its commitment to the design and delivery of architectural excellence to leading organizations across Canada and the United States. In addition to Banff Centre for Arts and Creativity, The Corporation of Massey Hall and Roy Thomson Hall,  and Contemporary Calgary Art Gallery mentioned above, current clients also include CAMH, the Hospital for SickChildren, Boston University, Princeton University, Oxford Properties, and Brookfield Properties, among others.