Celebrating the opening of TD Music Hall at the Allied Music Centre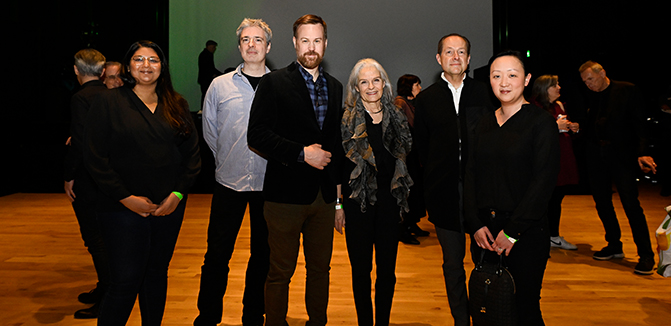 Article content
L–R: Shiva Kumar, Nicolas Green, Graham Baxter, Marianne McKenna, Chris Couse, Clementine Chang
April 3, 2023
TD Music Hall, one of four venues in the new Allied Music Centre (home of the newly revitalized Massey Hall), has opened. Designed in collaboration with Charcoal Blue, Engineering Harmonics, and Imagine Sound, the hall is an intimate, state-of-the-art venue for music lovers to embrace local, national and international talent. 
Constructed as part of the ambitious Massey Hall Revitalization Project, the 500-capacity hall boasts floor-to-ceiling windows, cutting-edge acoustics, and superior lighting, audio, and video systems. 
When embarking on the multi-year revitalization — the most significant renovation in Massey Hall's 129-year history — the mandate for our team was "improve everything, change nothing." Holding this directive closely, we sought to sensitively modernize and expand the beloved entertainment venue that Azure Magazine once called "a cultural jewel in Toronto's crown." 
"Massey Hall is such a positive and bright shining light in the city," said founding partner Marianne McKenna. "Preserving [its] magic was at the heart of all the design decisions that went into the revitalization."  
The revitalization included a full exterior and interior renovation of the historic hall and the addition of a new seven-storey building, both of which were unified to form the Allied Music Centre (AMC). This transformation honours its legacy while enhancing acoustics, improving seating, upgrading audio-visual infrastructure, and creating performance support spaces that will sustain Massey Hall into the future. 
Located on the fourth floor of the new addition to the AMC, TD Music Hall meets the city's need for smaller, cozier music venues for emerging artists. Since the pandemic, several small live music venues in Toronto have shut down; TD Music Hall hopes to fill that void, bringing people together through live performances and shared musical interests. 
The hall will also be open to community partnerships and cultural organizations hosting events such as the International Indigenous Music Summit, Honey Jam, TD Toronto Jazz Festival, Lulaworld Festival, and Small World Music. 
"TD Music Hall represents the future of Toronto's music scene. Purpose-built for incredible sound with modern amenities for fans and artists alike," said Jesse Kumagai, president and CEO of Allied Music Centre. "This brand-new venue is a gift to music fans, much like Massey Hall when it first opened its doors in 1894." 
The multi-phase revitalization will also see the addition of dedicated spaces for artistic development, music education, and community outreach in the future.