CBC: 189,000 visits within Remai Modern's first 6 months, among other figures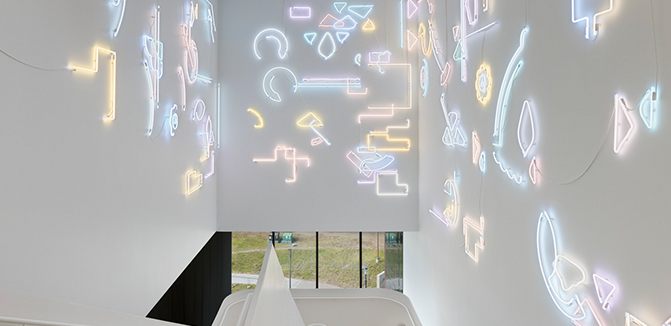 April 21, 2018
by Guy Quenneville
Visitor numbers for the first six months of Saskatoon's Remai Modern Art Museum are pacing well ahead of projections, no matter which of the several available numbers you're using to compare.
The museum saw 189,000 visits from its Oct. 21 opening to late April, according to statistics released by the museum on Friday.
There are several yardsticks by which to measure the relative success of that figure.
A business plan for the $84.6-million museum released in 2012 forecast 121,600 visitors during the museum's entire first year, although that projection was predicated on a regular admission price of $6. The museum actually charges a regular price of $12.
More recently, the city's 2018 budget hoped for 220,000 visits during the first year.
And in its release Friday, the museum said the six-month figure of 189,000 visits is "almost equal to our goal of 190,000 visits for the first full year."
34,000 visits in 1st month
Either way you slice it, "the response has blown many of our annual targets out of the water," said Remai Modern CEO Gregory Burke.
Just under a quarter of the visits, or 43,971, were paid admissions. The 2012 business plan had envisioned half of visitors paying for entry during the course of the entire year.
The museum's expected performance was a hot topic during 2018 budget discussions at city hall, with some city councillors citing concerns that initially boffo visitation numbers would eventually taper off once the novelty wore off.
The 2012 business plan similarly predicted visitor numbers would be 50 per cent higher in the museum's first years compared to the "new norm" in ensuing years.
Of the 189,000 visits since October, 34,000 took place within the first month.
Some of the other figures released Friday include:
7,890 members.
4,158 member households.
30,316 participants in learning and engagement programs.
21,609 patrons at Shift Restaurant.
13,256 items sold in the Art and Design Store.
More than 6,500 attendees at Remai Modern live events.