Canadian projects shortlisted for the 2021 World Architectural Festival Awards in Lisbon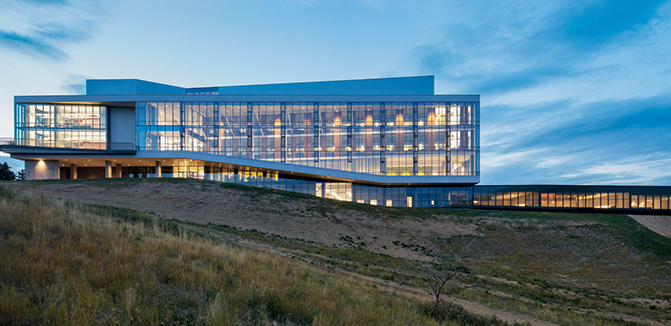 Article content
August 17, 2021
We are pleased to announce that three of KPMB's projects have been shortlisted for the 2021 World Architectural Festival Awards:
Isttaniokaksini / Science Commons at University of Lethbridge for Higher Education and Research – Completed Buildings
The Isttaniokaksini / Science Commons is a critical component of a larger vision to diversify Alberta's economy into the knowledge and innovation industries. Located on the Lethbridge University Campus in the majestic coulee landscape and next door to Arthur Erickson's iconic University Hall (1971), the project is purpose-built for transdisciplinary research and teaching. A tailor-made integrated design process was fundamental to promoting active discourse between researchers, instructors, users and the design team to define the qualities that should drive the creation of a transdisciplinary environment unique to the University.
CAMH Research Centre for Health – Future Project
The Centre for Addiction and Mental Health (CAMH) is a PAHO/WHO Collaborating Centre and Canada's largest teaching hospital and world-leading research centre in its field. The new Research Centre culminates a 20-year Master Plan vision to transform its downtown campus into an urban village inspired by the masonry fabric of Toronto's heritage residential and industrial neighbourhoods. The goal with the new research building is to remove the stigma associated with mental health institutions and reflect the evolution of CAMH's leadership and expertise.
A Resilient Duplex for Fort Severn First Nation for Residential – Future Project
In 2019, Two Row Architect and KPMB were invited to participate in the National Research Council's Path to Healthy Homes program, which aims to produce a best-practices manual for architects and engineers working with Indigenous communities, who are in desperate need of affordable, resilient, culturally appropriate housing. According to the 2016 census, 25 percent of First Nations people live in overcrowded housing, and 20 percent of the Indigenous population lives in homes that need major repairs. The Assembly of First Nations estimates that by 2031, Indigenous communities will need to build over 130,000 new housing units and renovate 20,000 more.
In addition, A Resilient Duplex for Fort Severn First Nation with Two Row Architect is the winner of the WAFX Social Equity award. Click here to learn more.