Canadian Interiors: Lloyd Hall Renovation, Banff Centre for Arts and Creativity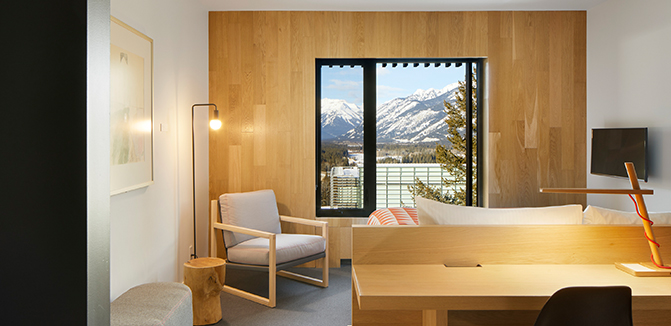 Article content
Click here to view Canadian Interiors
At the Banff Centre for Art and Creativity, KPMB Architects recently oversaw the renovation of  Lloyd Hall, a modernist 1970s building designed by Rule Wynn and Rule Architects.
The original building was built in three phases from 1965 to 1970. The architectural use of exposed natural timber and dark colour visually unifies the original elements with the new additions, and reinvigorates a building that sits at the centre of campus.
The renovation consists of a performance upgrade to the exterior windows and walls, a new exterior vertical wood fin cladding treatment, and an entry pavilion from the drop-off area.
The design approach respects the original International Style, buts uses colour and materiality to let the building recede visually in to its National Park setting. The existing Lloyd Hall sits above the tree line when seen from a distance; the "bark coloured" wood fins add a natural element to the façade, helping to blend the building into the trees.
The new Lloyd Hall entry pavilion celebrates and maintains the strong modernist tradition of the original design. Exposed timber structure and stone walls combine to create a distinct feeling of warmth and a sense of alpine craftsmanship. The new architecture utilizes the same wood fins and colour to unify the addition with the timber fin re-cladding of the existing building.
The fully renovated guest rooms act as a place for art archives of past residents. Window height was increased to take advantage of the spectacular mountain views which are the centre art piece of each room.