Canadian Business gets an inside scoop on the KPMB office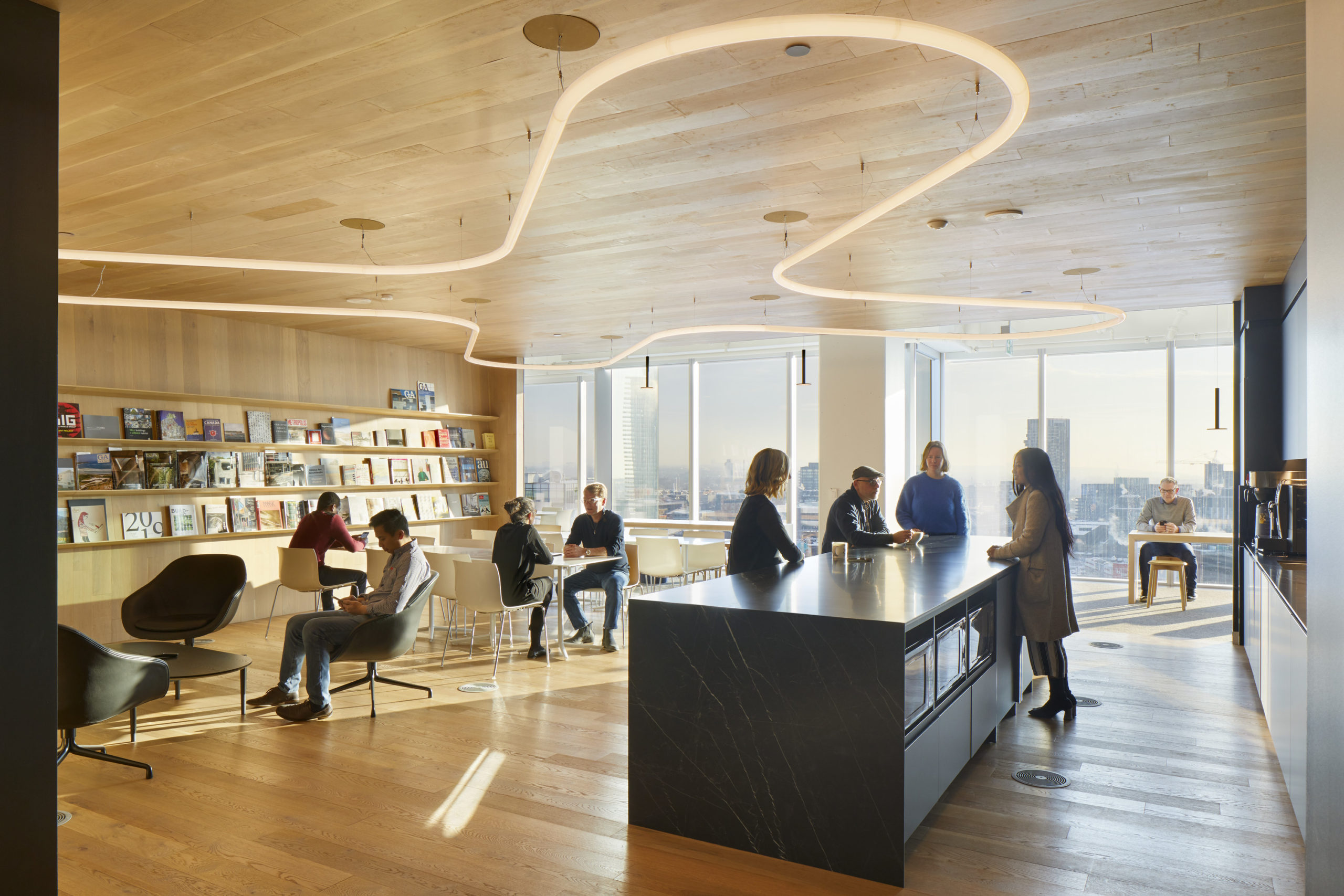 January 13, 2023
From the 12th floor of The Globe and Mail building, the panoramic views of Toronto welcome you to KPMB as you step off the elevator. Wrapped by a glass window wall, the office offers expansive views of the city and many of our past and present projects.  
The immediate access to the view beyond hints at the openness of the space. There are no offices located along the perimeter; instead, four large open work zones are organized around a central, white oak-clad pavilion that serves as a gathering space and includes a lounge with a kitchen, dining space, and library.  
This design embodies the firm's people-first and teamwork values. This way, KPMB partner Kevin Bridgman explains, everyone can enjoy and benefit from the natural light coming into the office. 
Speaking with Canadian Business for their "Workspace of the Month" series, Paulo Rocha and Kevin Bridgman, KPMB partners and the lead designers for this project, share how they found and renovated a space for 110 people in under a year and co-designed it to reflect who we are and how we work. 
Located in Toronto's King East Design District, this office (which we moved into in 2018) is sleek and modern but retains the character and warmth of our former timber loft studios on King Street West. "The warmth from the timber beams and ceilings of our original workplace inspired us to introduce a similar warmth in our new space," Rocha explained. 
The design for the office incorporates the culture of KPMB. It allows for collaborative and creative work at both individual workstations and casual seating areas placed throughout the 24,950 square feet space, offering the flexibility to work independently and in teams.  
On the east side of the office, a materials library showcases the dynamic nature of materials used in our projects and a model shop brings architects and designers together to prepare large drawings or build 3D model representations of the firm's projects.  
Throughout the office are also private rooms with curtains and lounge chairs where staff can take a quick break or make a phone call, and 12 meeting rooms, including a boardroom with retractable glass walls to accommodate town halls and larger gatherings and events. And with unassigned workstations — called "hotel desks" — available for staff to book, our space also reflects the hybrid future of office work.