Canadian-based architecture firm KPMB Architects showcase how architects design for art – Archinect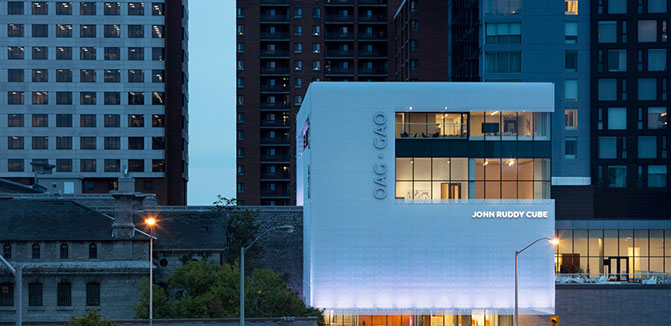 Article content
by Katherine Guimapang
Museums and galleries all over the world house some of the most valuable and sought after art pieces. Not only do these structures house art, but they also create the environment for art to live and be experienced with its surroundings. Canadian-based architecture firm KPMB Architects collaborated with Régis Côté et associés and Architecture49 to help transform and build two new museum experiences in Canada. With an emphasis in exhibiting and developing a new building for prominent art pieces and collections, KPMB and Régis Côté et associés worked on the Ottawa Art Gallery (OAG) expansion and Arts Court Redevelopment. The new mixed-use building functions as a museum as well as a cultural, civic center in the heart of Ottawa. According to the design team, the goal of the project was to "create a destination for patrons of the arts as well as provide an identity for the OAG and the other arts organizations currently housed in the Arts Court."
Upon reflecting on the design of traditional museums and civic buildings KPMB and Régis Côté et associés wanted to create a building that focused on bringing light and views into the space. Traditional museum designs are typically represented as "inverted forms" closed off from its surrounding environment so to keep the interiors "vaulted" in. However, for the OAG the goal was to "bring in more natural light and blur the lines between art and the city." Another unique feature is the buildings programmable color-LED facade which creates a vibrant energy between the building and the city.
Before the recent completion of the OAG expansion and Arts Court redevelopment KPMB teamed with Architecture 49 to develop a new museum that houses "the world's most comprehensive collection of Picasso linocuts and over twenty rare Picasso ceramics." Completed in 2017, Remai Modern uses the flat topography of the site's landscape to create a museum which represents the growth and history of Saskatoon, Saskatchewan. One iconic element is the museum's copper-colored metal screen that compliments the area's prairie landscape with a beautiful red tint.
Both buildings exhibit an inclusive approach to the future of museum design. Rather than housing precious art and collections in dark storage like buildings, the firm aims to approach museum design in a way that highlights the interplay between the structure's interior and exterior design and the art pieces they house. Several other architects and firms have incorporated this approach of inclusivity and cultural influence in order to create museum and gallery spaces that break from traditional design.