Canadian Architect: The impact of epidemics on academic facilities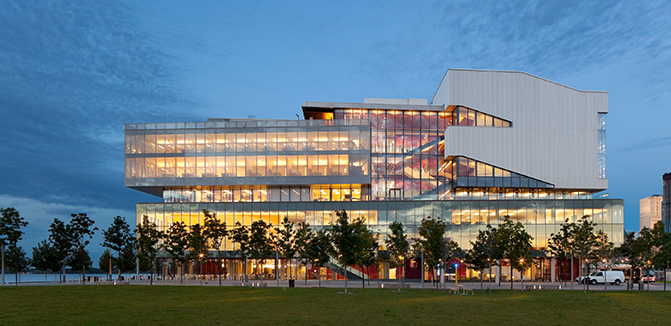 August 3, 2020
Click here to view Canadian Architect
by Bruce Kuwabara, Partner; Geoff Turnbull; Director of Innovation; Kael Opie, Senior Associate; Mitchell Hall, Principal, KPMB Architects
Post-secondary education has been shaken by the COVID-19 pandemic, with teaching moving online midway through the spring semester—and, for many colleges and universities, remaining at least partly online through the fall. Some have speculated that the shift to online learning will become permanent, and that some post-secondary facilities will close entirely. But our academic clients remain focused on the long-term development of their campuses, albeit with a greater emphasis on designing facilities that ensure the safety of students and staff.
Designing for health and wellness is good design for COVID
Beyond the physical distancing measures that will, at least temporarily, need to be implemented within classrooms and campuses, we strongly believe that air quality is critical to the health and well-being of people who inhabit academic buildings. We know from work by immunologists like Erin Bromage at the University of Massachusetts Dartmouth that the formula for spread of infection is:
Successful Infection = Exposure to Virus x Time
This indicates we need to be especially concerned about spaces that are occupied for extended periods of time, including offices, lecture halls, and labs. Long durations of occupancy in these confined spaces can alter the distancing calculus if ventilation systems move viral particles through the space, effectively connecting the occupants.
We believe that the best approach is using 100 percent fresh air in a true displacement ventilation strategy. This allows for the minimum amount of cross-contamination in occupied spaces and eliminates concerns around recycling virus-laden air.
Manitoba Hydro Place in Winnipeg—while a workplace, rather than an academic facility—is an example of this kind of system. The impetus behind the design, over a decade ago now, was to create the highest quality interior environment. Post-occupancy studies showed an increase in worker productivity and satisfaction, with a corresponding decrease in annual sick leave. Having a fresh-air displacement ventilation system, along with operable windows for additional natural ventilation, has dramatically simplified our client's post-COVID back-to-work planning.
Vertical campus concepts
As universities and colleges in major cities have limited room for expansion, the concept of creating vertical campuses has gained currency in recent years. Vertical campuses organize teaching, research, and residential facilities in a connected stack. The idea of interconnected academic neighbourhoods fosters identity and community; creates a hierarchy of spaces for engagement; and allows for larger communal spaces for events—all functions that retain relevance, even in the midst of a pandemic.
Pinch points and confined spaces, such as elevators and corridors, are areas of particular concern for controlling transmission of a virus. To reduce dependency on elevators, it is important to emphasize walkability, especially within large, multi-floor buildings. The key is to create choices of movement so that directional flow can be organized to minimize intersections of people.
One possible approach is to design required exit stairs as primary vertical circulation. At George Brown College on the Toronto Waterfront as well as at the School of Design at Kwantlen Polytechnic University, the exit stairs are wide and gently sloped, and are located on the exterior of the floor plate to allow natural daylighting and views. This makes them a desirable choice for moving between floors. Designating some stairs up-only and others down-only could minimize contact in stairwells.
Virtual engagement and review
Only days before COVID forced all to shelter in place, our office was awarded a large, complex university project that brings together diverse disciplines in one building. Building on past successes with the Integrated Design Process, we were able to pivot quickly and organize a series of virtual Town Hall sessions involving the entire design and client teams. Moving forward, twice-weekly sessions are allowing us to maintain momentum and build a quick rapport—albeit entirely virtual.
For academic projects currently in construction, minimizing the delay caused by work site shut-downs is a primary concern.
While wrapping up renovations to Robertson Hall at Princeton University, we worked closely with the construction manager to develop a virtual project review and closeout process. Using a checklist prepared by each consultant, the construction manager was able to broadcast a walk-through video review of each space in the building. Drawings and specifications were shared on the screen for reference and discussion as required, and participants asked questions, made comments and directed the camera to see specific items.
This process allowed the project closeout review to be completed on schedule, despite the pandemic.
From virtual to reality
Overall, the pandemic has exposed the vulnerability of people in interior environments. As institutions increase their dependence on virtual learning and working environments, we expect to see an increase in the perceived—and real—value of physical gathering spaces that can provide safe and healthy environments for living, working and learning.