Boston University has announced plans to build the KPMB Designed BU Data Sciences Center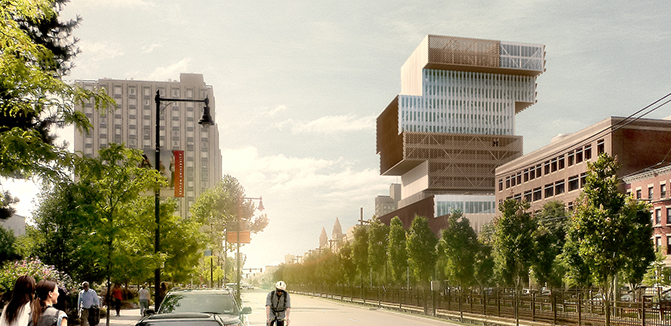 Article content
Click here to view Boston University
by Doug Most
Data scientist is the hottest occupation in the country, and on October 1 BU President Robert A. Brown announced that the University plans to be a leader in educating the next generation in the field by building a dramatic 17-floor tower on Commonwealth Avenue to house the new BU Data Sciences Center.
"This is the science that's going to change the way we behave, driving our behavior for the next 50 or 100 years," Brown says.
With the proposed project, BU would build the first major teaching center on the Charles River Campus in a half century, and the tallest building on campus. By bringing the mathematics and statistics and computer science departments under one roof, BU will also further its efforts to become one of the leading urban interdisciplinary research institutions in the country.
"What field today is not reliant on data?" says Azer Bestavros, a William Fairfield Warren Distinguished Professor and College of Arts & Sciences professor of computer science and founding director of the Rafik B. Hariri Institute for Computing and Computational Science & Engineering. "Students across every major want to take these courses. It's becoming the bread and butter for every student's education. Data science is now a unifier across disciplines."
For good reason.
Google handles 40,000 searches every second, or 3.5 billion per day. Every minute, 4.1 million videos are watched on YouTube, nearly a million Tinder swipes are made, 456,000 tweets are sent on Twitter, and Instagram users share nearly 50,000 photos. Roughly 11 million Apple Pay transactions are made every day.
All of those actions generate unfathomable amounts of data that companies gobble up, analyze, and use to grow their business. All that data has also opened up a minefield of ethical and moral questions around privacy that the government and the private sector are both wrestling with how to contain or exploit.
Jean Morrison, provost and chief academic officer, says that sheer numbers support BU's major investment in data science. She says the University saw a 23 percent increase in teaching credit hours for math and statistics from the 2006–2007 to the 2016–2017 academic year. And computer science saw a 266 percent increase.
A major factor driving the growth is not just the increase in students who want to major in the computational science fields. It's the rise in interest from nonmajors, who now recognize that no matter what their passion—public relations, engineering, business, nutrition, the arts—chances are high that data will play a role in it. And the more they understand the basics of computational science, the better position they will be in as they apply for jobs.
"So there's just explosive demand for these disciplines by both undergraduates and graduate students at BU and nationally," Morrison says. "This is a national-level trend."
Creating employable students for a data-rich workforce
Wayfair, General Electric, Amazon, Google, Fidelity, TripAdvisor, Athenahealth, DraftKings, HubSpot, Partners HealthCare, Blue Cross Blue Shield. Greater Boston is overflowing with companies that live and breathe on data, creating an intensive demand for workers who understand how to decipher it.
"This is a defining moment, with what's going on in Boston," says Eric Kolaczyk, a CAS professor of mathematics and statistics, director of the Program in Statistics, and cochair of a group convened by the National Academies of Sciences, Engineering and Medicine to study data-science education. "The opportunities for synergy are incredible, not just for internships, but for work, and that's one of the biggest selling points for students," he says.
In a report this year from the job search website Glassdoor.com, which used tens of millions of its own data points to determine the fastest-growing job categories, data scientist came out on top for the third straight year. Glassdoor cited high demand, good pay, and strong job satisfaction as the reasons. "Not only are tech companies scrambling to hire data scientists, but industries across the board, from healthcare to nonprofits to retail, are also searching for this talent," says Andrew Chamberlain, Glassdoor chief economist.
BU expects that its evolving computational science curriculum, renowned faculty and staff, and especially the new building at the corner of Comm Ave and Granby Street (where a parking lot now sits) will all be essential drivers of that changing workforce.
Tammy Qiu (CAS'19, CFA'19) came to BU from the Bay Area four years ago with a dilemma: "I was interested in art, but also art and science. I didn't have an idea of how to integrate the two." Four years later, she's a dual major in graphic design and computer science and is set to graduate next spring.
Qiu says what students want from any university is to feel more employable. And she's noticed more recruiting activity at BU in the last two years from major brands like Facebook and Google. "A significant amount of other graphic design majors are very much interested in visualization and embedding technology into their works," she says. "They are realizing there isn't much of a barrier anymore between art and technology."
A building designed for the future
Designed by the Toronto architectural firm KPMB Architects, the proposed plans for the center start with a 4-story base, or "podium," topped by 13 floors, each floor slightly off center from the one below it so that it resembles a stack of books. The 17 floors do not include the top floor and the basement, which will hold mechanical, electrical, and plumbing.
"They asked us for something—they used the word 'iconic,'" says Marianne McKenna, a KPMB Architects founding partner.
McKenna says the building base is about engaging the student body, so that along Comm Ave, passersby can look in and look up and see people working on the collaborative terraces. She estimates that it would take 24 to 28 months to construct from the groundbreaking. And she says that when it's done, it will be hard to miss from across the river, where Harvard and MIT sit.
"That brings a lot of pride to the University," she says. "It's important the University have that ambition."
Brown agrees, and says he pushed for a design unlike anything Boston, or BU, has seen. "I always think about what someone said to me many years ago," he says. '"A remarkable piece of architecture is architecture about which everyone makes a remark.' That doesn't mean they'll love it or hate it, but it will be a remarkable piece of architecture."
The plans call for sheltered pedestrian pathways, enhanced green space around the building, and seamless connections to both the historic brownstones on Bay State Road along the Charles River and to the bustle of Comm Ave.
Gary Nicksa, BU senior vice president for operations, describes the Data Sciences Center as a "vertical campus building," because of the way the departments are designed like academic neighborhoods, connected by a central atrium and spiraling stairway that would foster collaboration and communication. He says the public approval process with the city will focus on the size and shape of the building, the wind tunnels it might create, and the shadows it will cast. But he also says that BU and KPMB took all of those issues seriously in the design process.
"The city has embraced the idea of more remarkable architecture," Nicksa says. "The overall tone is that the city and community are encouraging better architecture. Which means there will be a lot of discussion about this."
In addition to being a public building, the center will be an open, glass-enclosed space of learning labs, classrooms, and meeting spaces. Floors three through five will house the mathematics and statistics department, recognized in part for decades-long contributions to the landmark Framingham Heart Study, the nation's longest-running epidemiological study, begun in 1948 and run by BU since 1971, supported by the National Heart, Lung and Blood Institute.
The fifth floor will also have a lunch space and meeting rooms. Computer science will mostly fill floors 6 through 10. The interdisciplinary Hariri Institute will be in the top six floors. The first two floors will house administrative offices.
Inside, the design's focus is on collaboration, with a series of terraced platforms intended for small-group interactions running almost the entire length of the building. Whiteboard walls will be everywhere to encourage scribbling and help turn hallway conversations into fleshed-out ideas. And a collaboration ramp will be dotted with small gathering spaces along the way for quick, spontaneous conversations.
"We wanted architecture that would signal to everyone that this was a special place, the center of campus," Brown says. "Because it's data science, we wanted it to mirror the century we're in now, not centuries past. We weren't looking to build a building that would have looked novel in 1900 or 1850. We wanted a building that in 2100 would stand up and mark the dynamic change in the University and talk about the century we're in."
Timing is everything
"Computer scientists have been around for decades," says Kolaczyk. "Statisticians have been around for decades. But the availability of data, and measuring every element of data, that's what's changed so quickly."
Big data is playing a particularly major role in healthcare, allowing hospitals and doctors to move toward more personalized medicine.
As one example, Boston University and Boston Medical Center, led by Yannis Paschalidis, a College of Engineering professor of electrical and computer engineering and director of the Center for Information & Systems Engineering, have won a three-year, $900,000 grant from the National Science Foundation to develop machine learning algorithms and identify high-risk patients for heart disease or diabetes. Those algorithms will then be used for early, highly personalized intervention.
"We can now analyze what happens to patients in real time and characterize the status and health condition of each individual," Paschalidis recently told HealthITAnalytics.com.
The days when a few analysts in an office could plug a few hundred numbers into an Excel spreadsheet and compute valuable results are gone, Kolaczyk says. "We need to enable the world to intelligently consume data. This is where education comes in."
And BU's efforts in the field have already been paying off, he says. A new Master of Science in Statistical Practice has a class this year of 45 students, selected from a competitive group of 500 applicants. Alumni from the program have found employment throughout data-intensive industries like biomedicine (Boston Medical Center, Bristol-Myers Squibb, Novartis), finance (Bank of China, Citizens Bank, Lobel Financial), consulting (Deloitte), insurance (John Hancock, Liberty Mutual), and technology (Amazon, Criteo, Spotify).
Brown emphasizes that BU made the decision to invest in computational sciences because it was already a powerhouse discipline at the University. "We're very good in these fields, so this is not about trying to build strength from weakness," he says. "We just need to get bigger. Because of the demand in terms of applications, the areas we can cover are just growing so fast. Our computer scientists are very good; we have a very fine department. It's stretched to its limits."
Abraham Matta, a CAS professor and chair of computer science, says his daughter is an example of this new data-driven world. She studied economics, but she also took programming and statistics classes—and now she's a data analyst and business analyst. "A little training in data science can open doors," Matta says.
Both the Hariri Institute's Bestavros and Matta acknowledge wishing that BU had acted sooner with this investment, maybe five years ago, before data science had fully exploded as a field. But by waiting, they also say, BU can now benefit by learning from the experiences of others and taking full advantage of the booming data workforce building in Boston.
"Now makes a lot of sense," Bestavros says, "because now we're doing it with eyes wide open. The breadth of BU, combined with its location, should make us the envy of many universities.
"If I were not at BU, I would envy BU."