Beyond The Bio: 16 Questions With KPMB Architects Co-Founding Partner Marianne McKenna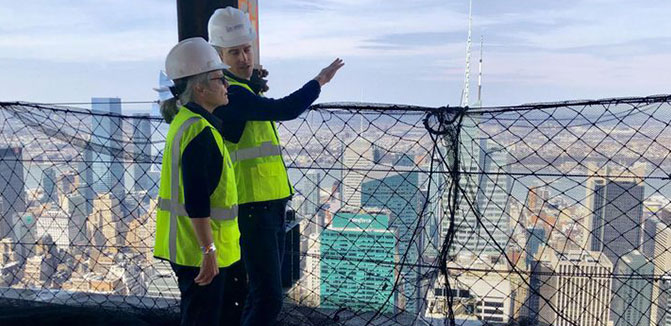 Article content
by Catie Dixon
This series profiles men and women in commercial real estate who have profoundly transformed our neighborhoods and reshaped our cities, businesses and lifestyles.
Marianne McKenna says architecture is not for the faint of heart, but she has shown she is far from faint: She is considered one of the most powerful people in Canada, and through her architecture, her influence is felt internationally.
McKenna is an invested officer of the Order of Canada, a recognition for national service and the second-highest honor one can obtain in Canada (only the Order of Merit, personally bestowed by the monarchy, is higher). She was named one of the 50 most powerful people in Canada by MacLean's Magazine in 2014.
McKenna co-founded KPMB Architects in 1987 and has particularly made a name for herself in designing performance and higher education spaces. Her recent projects include the TELUS Centre at The Royal Conservatory in Toronto and the renovation of Massey Hall in Toronto, the Conrad New York hotel, the Kellogg School of Management at Northwestern University in Chicago and Boston University's Data Sciences Center.
She said she grew up during the feminist movement when there was new freedom to challenge traditional roles and that has shaped her career.
"I was fearless and vocal, and unwilling to let gender stand in the way of achieving my potential."
Bisnow: What is your favorite part of your job?
McKenna: Designing handsome and durable spaces that bring people together face to face and strengthen communities. Recently this has extended to both designing new and renovating heritage structures as part of urban intensification. I'm currently working on three projects that involve redevelopment and spaces of worship. These are such essential places for outreach, acceptance of diversity and shared understanding. We work in such a rich global world, linking generations and skill sets, and tackling constantly evolving change. It is incredibly stimulating!
Bisnow: What is the worst job you ever had?
McKenna: There are no bad jobs. Every project that comes to our firm has multiple dimensions and sometimes the challenge is getting a client to see that what is good for all, is good for them. Creating a more vibrant public realm, making buildings that are thoughtful and durable, and signaling identity and outreach, are just plain good business.
Bisnow: If you weren't in architecture, what would you do?
McKenna: I'd be a developer who drives smart development from multiple perspectives of the communities that need housing, amenities and shared public spaces. Our cities need more than the boring glass buildings that are popping up everywhere. We need to infuse architecture with programmatic richness from public realm to skyline.
Bisnow: What project are you proudest of?
McKenna: The Royal Conservatory and Koerner Hall took 18 years to accomplish, but this project, which blends learning and performance, has had the most profound impact on our city and internationally through the steady stream of artists that have performed in the Hall. From Yo Yo Ma to k.d. lang and thousands of audiences, Koerner Hall has created an extraordinary platform to demonstrate the power of music to transcend human boundaries, to excite and stimulate and bind us together.
Bisnow: What project do you consider to be your biggest failure?
McKenna: Unnamed, but a project where we created a wonderful space for two complementary academic disciplines to meet formally and informally to share ideas, and the budget did not extend to furniture!
Bisnow: What is your biggest pet peeve?
McKenna: The challenge of accurately predicting construction costs in the current marketplace, no matter how many consultants are at the table.
Bisnow: What is your greatest extravagance?
McKenna: Free time.
Bisnow: What motivates you?
McKenna: KPMB as a practice — as we continue to demonstrate the transformative power of architecture, through the talent and commitment of our deep and diverse team, creating exceptional projects across all project types and sizes. It is inspiring to be part of it!
Bisnow: What advice do you wish you got when you started in architecture?
McKenna: I am not sure anyone could have advised us. The world of practice is somewhat unpredictable so you have to stay nimble, optimistic and resilient. We have achieved an uncommon accomplishment from a strong pedagogical foundation, good intuition and healthy ambition.
Bisnow: What is the biggest risk you have ever taken?
McKenna: Starting a practice with only a big vision of design excellence.
Bisnow: What keeps you up at night?
McKenna: Constantly evaluating the marriage of project vision and detailed design.
Bisnow: What is your favorite place to visit?
McKenna: Practically any city or landscape. I love seeing new places.
Bisnow: Outside of work, what are you most passionate about?
McKenna: My family.
Bisnow: What architectural trend do you think will have the most impact over the next few years?
McKenna: Resilience and regenerative architecture.
Bisnow: What would people be surprised to learn about you?
McKenna: I have a red dress in my closet.
Bisnow: What do you want your legacy to be?
McKenna: Another concert hall — I am praying for one!