AZURE: Isttaniokaksini / Science Commons at University of Lethbridge has been selected as a finalist in the Environmental Leadership category for the 2020 AZ Awards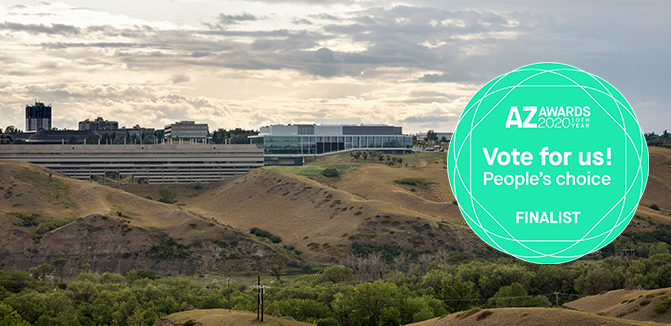 Article content
May 7, 2020
Click here to view AZURE Magazine
An exceptional year, an incredible result: the internationally renowned jury of the 2020 AZ Awards has selected the very best from the 1,241 architecture and design entries we received – the highest number of submissions to date – from 47 countries around the world. The 68 finalists in 20 categories exemplify excellence in innovation, aesthetics, creativity and social and environmental responsibility.
In 2020, the annual AZ Awards marks a major milestone – its 10th edition, coinciding with Azure magazine's 35th anniversary – while entering the new normal. Our jury members Luca Nichetto, Stephanie Davidson, Omar Gandhi, Mia Lehrer and Marion Weiss were asked to weigh in from their homes in Stockholm, Toronto, Los Angeles and New York as we convened our first-ever remote deliberation process.
We have since released new dates for future AZ Awards-related announcements. Both the finalists and the winners will be feted at the AZ Awards Gala – now taking place on September 18 – and will also be published in the AZ Awards Annual (now Azure's October issue), which will hit newsstands at the end of September. This special issue will be packed with the best in furniture, lighting, architecture, interiors and landscapes from around the world.
Stay tuned for the opening of the People's Choice portal, set to go live on May 14, where you can cast your votes for your favourite finalists.