Architect Bruce Kuwabara to be honoured at McMaster Fall Convocation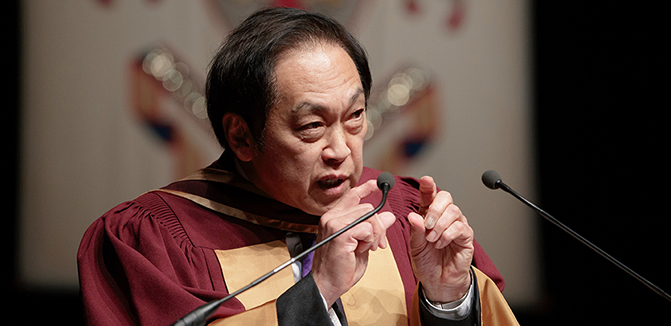 Article content
Click here to view the Daily News – McMaster University
Four distinguished leaders will be awarded honorary degrees at this week's Fall Convocation Ceremonies in downtown Hamilton.
Author Lawrence Hill, architect Bruce Kuwabara, engineer Trueman Goba and physicist and McMaster alumnus Sow-Hsin Chen will be honoured on Thursday and Friday.
Kuwabara, a Hamilton native and celebrated architect whose many high-profile public projects include McMaster's James Stewart Centre for Mathematics, is to receive his degree and speak to graduands at the ceremony for the faculties of Business, Humanities and Social Sciences and the Arts & Science program (9:30 am, Thursday, Nov. 17).
Hill, a Hamilton resident and distinguished author, is to speak to graduands and receive his honorary degree from the Faculty of Health Sciences (2:30 pm, Thursday, Nov. 17), which is recognizing his contributions to global health, including his work as a volunteer with Crossroads International, and to storytelling about health through his book Blood: The Stuff of Life.
Goba and Chen are to be honoured at the Engineering and Science Convocation ceremony (9:30 am, Friday, Nov. 18). Goba — a leader in engineering and business who struggled against racism and worked to improve the lives of black South Africans by working on infrastructure projects in the townships — is delivering the Convocation address.