Architects and designers come together to support our neighbours, one gingerbread house at a time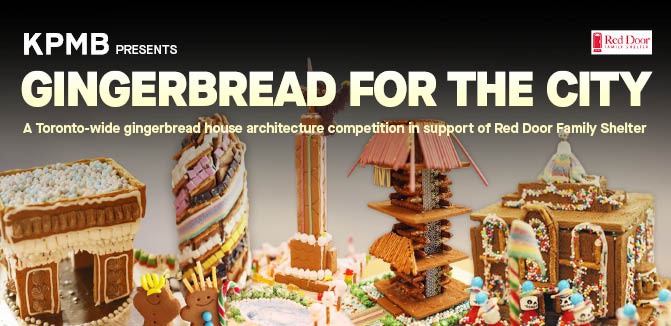 Article content
November 30, 2022
Building on the long tradition of supporting local charities through a firm-wide holiday gingerbread competition, KPMB expanded the initiative this year, reaching out to local architecture firms to help take our city-building efforts to another level.
Gingerbread for the City is a Toronto-wide gingerbread house competition in support of Toronto's Red Door Family Shelter. Together, we have raised more than $6,000 to help families in need.
All proceeds support the Red Door Family Shelter, which since 1982 has been providing emergency shelter and support for women and children affected by domestic abuse, families experiencing a housing crisis, and refugee claimants with nowhere else to turn. If you would like to donate, please click here.
"For 2022, KPMB has transformed a beloved in-house gingerbread building competition into a community-widen design event. We've invited our peers and colleagues to compete, donate, and support the Red Door Family Shelter in a fun and convivial event for all," says Andrew Dyke, KPMB Partner and gingerbread afficionado. "Good luck in your builds everyone and have fun!"
Following the builds, all of the gingerbread designs will be shared with the public via an online gallery. Each team will submit photos of their delicious buildings, representing the theme "The Missing Middle."
The public is invited to vote online for their favourite design at https://gingerbread.kpmb.com/ — all entries will be posted, and voting will be open from December 6 to 12, and winners will be announced on December 12.
An enormous thank you to Give & Go for generously donating the gingerbread kits this year. Thanks to its generosity, additional kits were delivered to the Red Door Family Shelter.
Thank you to Scott Norsworthy for donating his time to photograph some of the entries.
Thank you to all the participating firms for donating their time and money to the cause:
BDP Quadrangle | Bortolotto | Giannone Pettricone Associates | Hariri Pontarini Architects | Izen Architecture | KPMB Architects | Lebel & Bouliane | Lemay | Montgomery Sisam Architects | Moriyama Teshima Architects | Office Ou | RN Design | SRN Architects | Studio AC | Superkul | SvN Architects + Planners | Sweeney & Co | The Plus Group
Together, we're working to build a more supportive city!