Ahead of the curve – Alex Bozikovic reports on the new Kellogg Global Hub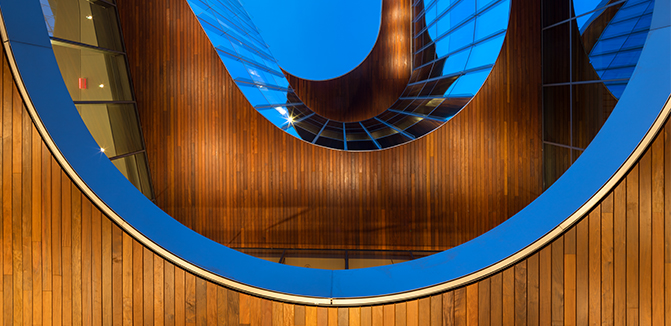 April 7, 2017
Architecture is more than high art – it has to serve the needs of those who work and live within it. Alex Bozikovic reports on a Canadian firm that is pushing the boundaries of design at one of the world's top business schools
As Sally Blount returned to Chicago, the U.S. border guards had a question: What had she been doing in Toronto? The dean of Northwestern University's Kellogg School of Management was coming back from meeting her architects at the Toronto firm KPMB. "They asked me, couldn't you have found someone in the U.S. to work with?"
"And I said, 'No,'" Blount explains, leaning over her conference table as Lake Michigan stretches out to the horizon. "To do this project, I needed this team."
Team: It's a crucial notion in both the worlds of architecture and of business. And this project, by architects led by Marianne McKenna and Bruce Kuwabara, shows the fruits of collaboration. Unveiled last week at the university's Evanston, Ill., campus, just north of Chicago, the new Kellogg Global Hub is a landmark: a 415,000-square-foot centre for teaching and research that serves as a glossy showpiece for Canadian talent in America's architectural capital, at one of the world's pre-eminent business schools. And it displays the power of design to bring people together.
The social dimension is not clear at first glance. The $250-million (U.S.) building reads as a handsome sculptural form: Shimmering façades of blue glass snake around its edges, pushing outward in billows that reflect the campus and the broad waters of Lake Michigan – whose curvy shoreline it seems to be captured in its architecture. It is an "object building."
Yet, once I stepped inside I saw how the place could draw people together. Here, the centre opened up into a three-level atrium, accented by forms of warm white oak and flanked by curvy balconies. A grand staircase stretched from the second floor down into the basement, sprinkled with students and faculty working, texting, schmoozing and, inevitably, drinking coffee.
All this was no accident. It's a kind of benign social engineering: By making the central space into a passageway and a place you want to linger, the building's architecture forces faculty and students to be social.
"I wanted to make it impossible for people not to run into each other," Blount explains.
This is something of a cliché in contemporary architecture, particularly in office design – and one that architects understand intuitively. "We are the cliché," McKenna says. "We've had an open office for 30 years." Kuwabara adds, "When the world is saying 'open and collaborative,' we know something about that. It has to do with proximity and face-to-face contact." (KPMB designed the interiors of The Globe and Mail's new offices in Toronto.)
Flexibility, collaboration and a lack of hierarchy are the corporate ideals of the day. And dialogue matters in business schools, where in-class exchanges are a central part of the teaching method. "We're a very people-oriented culture," Blount says of her school in particular. Her own PhD is in behavioural psychology. "I'm trained to figure out how people think. If I were to meet you at a cocktail party, I'd love to ask you a lot of questions. …" She notices me looking around her space, and adds: "This office is clearly not the most impressive. But look what they did with it." Hers is a corner office, but a modestly sized one. Her desk is off to one corner, a custom curved wood slab cantilevered off the wall. It is not large. At the heart of the room are a conference table, a fireplace and comfy chairs. This is the atmosphere: unpretentious, corporate and hospitable.
Fittingly, the building is, at its heart, quite businesslike. Most rooms are contained in four long rectangular bars; but these bars are brought together at slight angles, and then wrapped in that curving skin, so the building feels much more eccentric from afar than it does from inside.
And yet, the centre works extremely well because of the refinement of that interior. The rational thing to do as an architect – if you are thinking about the bottom line – is to focus on the big moves and let the details repeat themselves. To their credit, this is not how KPMB works. Blount shows a particular wall of wooden fins outside her office that "must have been redesigned eight or nine times," she says. "And they got it right."
In a first-floor classroom, Kevin Thomas, the KPMB associate who ran the construction, points out with pride the custom cabinets that contain the garbage and recycling bins; they're curved just like the larger structure, the wood and countertop terminating in a precise knife-edge. The stepped floor in the classroom? Same thing. While subtle, such details – and there are a lot of them – produce a palpable unity between the larger and smaller spaces.
"It's about trying to create a sense of place at every scale, from the classroom to the piazza," Kuwabara says.
To solve this building, "We had to understand how big 400,000 square feet is," he adds. "Then the challenge was, how do you break it down?" Their initial response was to create four small buildings linked by an internal "street." But the clients shot down that response: This would be too "inward," Blount argued, and wouldn't catch the "excessively public" atmosphere that the school was aiming for. So the architects twisted the building into four legs. "They actually listened," Blount says. "They went away from one meeting and came back with something that really reflected what we wanted."
That is the job of architecture. While some people might imagine high design as a kind of sculpture, it should always be shaped by the needs of the people who will use it. The challenge is to interpret those needs, and respond to them, in a way that is beautiful. This, Blount suggests, is a strength of KPMB: "They don't have a macho attitude about what they do," she says. "It's about solving a problem, not primarily some kind of individual expression."
For instance: giving all 200-plus professors their own view of the lake. "The faculty was important," McKenna explains, "to make sure that they were here on campus, not just for their teaching environment but also to interact with each other."
That was one reason for all the curves – curved facades generate more and better views. Similarly, the faculty offices on the top floors are linked by three-storey atriums, somewhat public but somewhat removed from students and their requests.
They may be shaped by academic politics, but these spaces are beautifully proportioned and well-crafted. The faculty atriums are not too massive, just the right scale to encourage you to sit; they enjoy remarkable views of the Chicago skyline or the lake.
This is not a building made to go viral on Pinterest. It is subtle. That's thanks to the influence of Blount: Having worked long ago in an architect's office, she knows communication and persistence are what make good design. This encouraged her to look beyond "big, big, big, big names," on the school's short list of architects, as she puts it. Among them were Chicago's Adrian Smith + Gordon Gill, architects of the world's tallest building, the Burj Khalifa in Dubai; Chicago corporate-architecture giants Skidmore Owings & Merrill; and Bohlin Cywinski Jackson, masterminds of the Apple Store. KPMB were late additions.
They were no novices, having designed award-winning management schools for the University of Toronto and Concordia University. And yet, despite some work at Yale University, they had been relatively little-known in U.S. higher education. (That is changing now with projects under way at Princeton and the University of Pennsylvania.) Reputation matters: In the fundraising game, especially at a private U.S. university such as Northwestern, big names are an assurance of quality. "They took risks with us," Blount says, "and we took risks with them."
Risks in what sense? For one thing, with curves. KPMB, in a 30-year career, have rarely experimented with different forms: Their buildings tend to be elegant boxes or stacks of boxes. But here, they've made some twists on that – a trend that Kuwabara credits to working with Blount. The Chicago academic pushed the architects to be more bold. And their careful, context-sensitive architecture has gotten a useful dash of yeast. "To be collaborative, to be adventurous," McKenna mused, "that's what this place asks you to do."