The winning design team for the new Art Gallery of Nova Scotia and Waterfront Arts District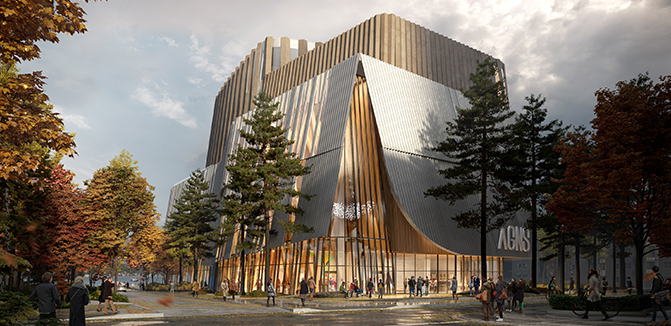 November 18, 2020
Click here to view Art Gallery of Nova Scotia
KPMB Architects with Omar Gandhi Architect, Jordan Bennett Studio, Elder Lorraine Whitman (NWAC), Public Work and Transsolar have been selected as the winning team of the international design competition for the new Art Gallery of Nova Scotia and Waterfront Arts District.
The new Gallery and Arts District, located on the Salter Block of the Halifax Waterfront, will be a transformative arts destination for all to experience. It will inspire and celebrate creativity and imagination, but also challenge the status quo and reshape institutional values. It will be a place created with people, art, and culture at its core.
The work completed by the winning team embodies a vision of a place for all seasons, rooted in sustainability, connecting the city at the water. It's a gathering space where art, learning and community unite.
Jury Report
After individual review and consideration, a jury of seven experts met over two days to evaluate the design competition submissions and provide a recommendation for the winning submission. We are pleased to share the Jury Report which summarizes the process undertaken by the Province, technical experts and the jury, the jury's recommendation, and their comments regarding the winning scheme. Read the full report.