"A Home for the Arts:" Celebrating 5 years of the new Ottawa Art Gallery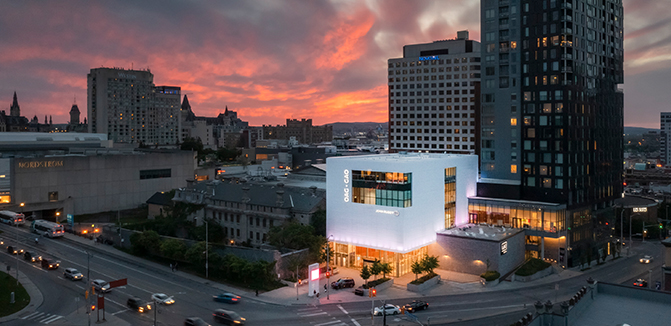 Article content
May 24, 2023
In 1992, the Ottawa Art Gallery (OAG) hosted its first public exhibition, "Treasures from the Firestone Art Collection," featuring a cherished collection of Canadian art gifted by avid art collector Otto Jack "O.J" Firestone and his family. 
The Firestone family's collection was so large that over the years their home in Rockcliffe Park became a gallery itself. Bedrooms were turned into gallery spaces, walls were covered with artwork by members of the Group of Seven, sculptures were commissioned for the home, and artists were welcomed in to give talks and tours. In addition to the art, the house, designed by Ottawa architects Samuel Gitterman and George Bemi, had another showstopper — a grand brass and marble staircase in its foyer. 
Today, the staircase sits in the main lobby of the new OAG. Home to a dedicated space for the Firestone Collection, rooftop terraces, a multipurpose room, an art studio and a café, the gallery is the realization of a decades-long dream.  
Designed in collaboration with Régis Côté et Associés, the building provides the OAG with a new home, revitalizes Ottawa's downtown, and raises the profile of Arts Court, the city's central arts hub and a haven for artists, independent arts organizations, and supporters of the arts since 1988. 
The gallery opened its doors to the public in April 2018 and this year, is celebrating its 5th anniversary in its new location with special programming and exciting exhibitions.  
We caught up with CEO and gallery director Alexandra Badzak and Mitchell Hall, KPMB partner and design advocate on the OAG expansion project, to chat about the new space, the Firestone family, and how cultural institutions can become social hubs for their communities.  
The OAG has always called Arts Court home — since its early days as "the Gallery at Arts Court." What conversations were had when considering a site for the expansion?  
AB: We looked at several different sites and also went through various iterations of what an expansion at Arts Court would look like. Test driving different sites helped us get a clear understanding of what we wanted and that was our own front door — we wanted our own sense of ourselves. 
We're in a city that's replete with national museums; we have seven national museums. So, this was really an opportunity to rethink "What is our role?" "What is our niche?" "Where do we fit within this ecology?" And we felt it was important to establish that we're a home for the arts.  
MH: The idea of identity was critical for this project. Although the gallery had a nice space, it was buried inside of this old heritage courthouse, so it had no face on the street. The challenge for us was to create a complex of buildings where everything had its own identity on a very small site, while meeting museum standards. 
There were a lot of factors to consider — a plaza on the South side, a boutique hotel to the North, a nearby truck route (Waller Street). We also wanted to be sensitive to the heritage fabric of Arts Court. We wanted to create something that would complement the surrounding historic buildings.  
AB: It was wonderful to come back to Arts Court because the concept of an arts hub is exciting. We wanted to have our own identity inside Arts Court, you know sitting next to it, being connected to it, having a presence. Mitch and the team definitely had their work cut out for them to create all of these very bespoke and distinct spaces. 
With this new space, how did you signal to your community that the OAG is a home for the arts? 
MH: One of the early questions we asked was "what if a gallery was more extroverted as opposed to introverted?" and that stayed with us throughout the entire process. 
AB: Yes, it was exciting to sort of let go of the more vault-like aspects of museums and galleries.  
MH: I even managed to convince Alex and her team to let a little natural light leak in. 
AB: It was one of those wonderful push and pulls of Mitch saying, "let's bring in more light" and us saying "but we're a gallery and we need walls." But it became an amazing signature indicating the activity in the building. You can be in one of our gallery spaces and see people kind of moving up the staircase. It gives you a real sense of where you are which helps combat that gallery or museum fatigue that can often set in when you don't know where you are in a gallery.  
And when we think about a 21st century museum, there's definitely a sense that there's been a paradigm shift — it's no longer just about the care and preservation of objects, it's about the care of community and the connection between art and community. So, how does the architecture need to reflect that?  
Mitch is being very humble, but he did an excellent job of creating those spaces of congregation and community in a tight footprint and in a stacked gallery concept. All of those are complex situations and yet each space, each floor, has a different look and feel, a different scale to it. 
The Firestone Gallery is sort of modest in its scale; it feels very homelike. And then you move up a level and you go into our Spencerville Gallery, and it feels lofty, it feels contemporary. I think that really adds to that sense of caring for people as they're moving through a space. 
MH: Alex and I worked closely throughout, the architects from Régis Côté et Associés were great to work with, and Lawson Hunter (chair of the OAG's board of directors at the time) championed the expansion. I think it goes to show the level of commitment and collaboration needed to do something that's great. Something that you can be proud of. 
Let's go back to the Firestone staircase. What was the thinking behind its inclusion in the building's design?  
AB: When the Firestone family home was going to be knocked down, the OAG in its wisdom — long before I came on board — decided to go in and save some elements of the home. They didn't have any clue how they were going to use anything but went ahead and grabbed the staircase, some light fixtures, some brickwork. 
The staircase connects the main lobby to the Firestone Gallery on the second floor. You go up the stairs to see the collection and remnants of the Firestone family home are reflected in the OAG's overall design. 
Since the gallery's beginnings we've been stewards of the Firestone Collection of Canadian Art, so this felt like an important piece of the OAG's history.
MH: There's this amazing photograph of O.J Firestone sitting in a suit in his salon surrounded by the fabulous art collection that Alex is talking about. The paneling in his salon was teak and in the corner was the brass and marble staircase with a teak handrail. It was just beautiful, and we tried very hard to reproduce that spatial quality in the gallery. 
We felt strongly that we needed to honour this important relationship between the OAG and the Firestone family and were lucky to find an incredible craftsman (Justin Richard, Urbano) who cleaned up the staircase, reassembled it, and added some new pieces to make sure it worked in the space.
AB: There are other aspects of Canadian art history in the gallery. We worked with the Canadian Film Institute to make our event space a functional cinema space and we felt that it would be lovely to then recognize Alma Duncan, an important pioneer and female filmmaker from Ottawa, so we named it The Alma Duncan Salon. And the Jackson Café was named after A. Y. Jackson, a member of the Group of Seven. We actually have one of the largest holdings of his work because he had a close relationship with O.J Firestone. 
How does this new location reflect that paradigm shift Alex mentioned? Of cultural institutions trying to balance their traditional roles as curators and stewards of arts and culture with their emerging roles as community advocates? 
AB: For us, being a home for the arts meant that the gallery had to be fully accessible, from a mobility perspective and in every sense of the word. It's free, it's open late, there are public spaces around, and there are a lot of spots inside for seating.
We also work with our community. We worked with the LGBTQ+ community when creating our gender-neutral washrooms. We work with the Kitigan Zibi Anishinabeg First Nation and Pikwàkanagàn First Nation and had a language keeper train us in Anishinaabemowin so that we could embed it onto our website and do our statement of territory in that language. 
We worked with the Ottawa Black Art Kollective to create joint exhibitions and a curatorial internship program. They also reviewed our hiring practices and guided us on some ways to ensure that we have Black representation at our governance level. And these are not "one and done" situations. These are relationships that we continue to enhance and deepen. 
On Mondays, we host an open studio concept and welcome clients from the Royal Ottawa Mental Health Centre, the Youth Services Bureau, the Ottawa Mission, and the St. Joe's Women's Centre. The Ottawa Mission also has an incredible culinary program — as you move through the shelter, you have the opportunity to learn new skills, including cooking. So, they've become one of our exclusive caterers.
MH: That's amazing, Alex. This project was about place-making and city-building, about integrating the gallery meaningfully into the existing fabric of the city given its downtown location. I think we were able to accomplish that because the OAG is a model for what a municipal gallery can and should be, a model for the role a gallery should play in its community beyond housing precious art collections.