Canadian Architect shares 6 ways for Canadian architects to celebrate International Women's Day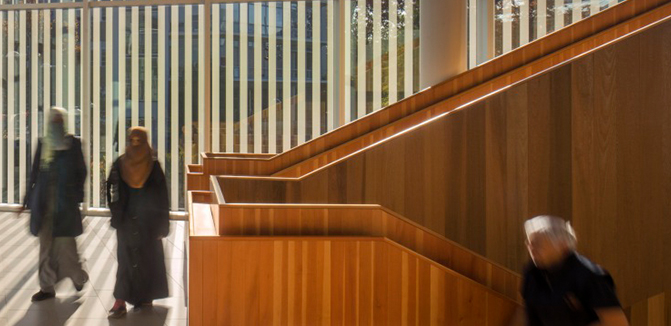 Article content
Click here to view Canadian Architect
by Elsa Lam
March 8 is International Women's Day, and Canadian architects have much to be proud of – and much still left to do in promoting diversity and balance in the profession. Here's our round-up of events from coast to coast.
1. Follow the BEAT in Toronto.
On Saturday, March 9, BEAT (Building Equality in Architecture, Toronto chapter) is hosting its 5th annual Leadership Seminar. The event aims to expose students and young practitioners to leaders in the architectural profession.
From sole practitioners to partners in Toronto's leading design firms, the seminar speakers—Canadian Architect editor Elsa Lam, Studio AC co-founder Jennifer Kudlats, PLANDFORM's Nina-Marie Lister, Williamson Williamson senior associate Sonia Ramundi, and Smoke Architecture's Eladia Smoke—are architects and academics who have established successful careers. They'll present talks and tours that showcase the breadth of the profession and speak to the numerous ways to navigate a career in the built environment.
While the event is geared to women, all are welcome to attend. BEAT believes that it is critical to have inclusive discussions surrounding issues of pay equity, gender bias, and the pressures of balancing work with a family life. Free tickets can be reserved here.
2. Visit the newest women-led projects in Ottawa.
The first new building on Parliament Hill in over a half century is the Moriyama & Tesima- and IBI-designed Visitor Welcome Centre. Here's a little-known fact: the elegant design was led by an all-woman team, on both the architect and client sides. (Architects Carol Phillips of Moriyama & Teshima and Heather Semple of IBI led from the design-end).
Women also were among the leaders of the West Block revitalization next door. The historic edifice—one of the oldest structural stone masonry buildings in North America—was renovated to house the interim House of Commons by adding a giant glass roof over an existing courtyard. The design was completed by Architecture49 and EVOQ, including key team leaders Julia Gersovitz and Roseanne Moss, both principals at EVOQ.
If you're in Ottawa, take a stroll over to Parliament Hill to tour the two buildings—or if you're elsewhere, take a peek at our in-depth reviews in the March issue of Canadian Architect.
3. Hear Shirley Blumberg lecture in Montreal
On Tuesday, March 12, KPMB founding partner Shirley Blumberg delivers the Canadian Institute of Steel Construction lecture at McGill University. The subject of her lecture is Evolving Practice.
"Other than sports analogies, I would say don't let the fact that architecture is male-dominated distract you from what is important – your development and growth as an architect," says Blumberg. "And the profession is changing. Mary Beard, the English scholar and classicist wrote, 'You can't easily fit women into a structure that is already coded as male, you have to change the structure.' Which is why we founded BEAT (Building Equality in Architecture in Toronto) – a modest first step to increasing retention and opportunity for women in our profession. As that happens, be patient and impatient, be passionate and work hard, and use your earned experience and expertise to fuel your confidence."
McGill University's School of Architecture is now offering free childcare at their lectures—a step we applaud as essential in enabling architect-parents to participate in con-ed and community events.
4. Hear about cities from her perspective in Edmonton.
On Friday, March 8 at noon, DIALOG's Edmonton office is bringing together some of the smartest minds that are shaping our city—and they all happen to be women. The event will be a conversation about the unique perspectives women bring to building inclusive and vibrant cities like Edmonton.
Panelists include Kalen Anderson (Director of the City Plan at City of Edmonton), Kairi Pawlick (Director of Real Estate for Canada Lands Company), Chelsey Jersak (Founder and Principal at Situate), Jacquelyn Cardinal (Managing Director at Naheyawin), and Salima Kheraj (Chief Innovation Officer at Beaverbrook). It's hosted by DIALOG principals Tai Ziola and Jill Robertson.
Tickets to the sold-out event were by donation, with funds going to WISEST (Women in Scholarship, Engineering, Science & Technology). WISEST has been empowering young women to enter sciences, engineering and technology careers for over 35 years through hands-on experiences, mentoring and networking, and outreach and education.
5. Get the documentary City Dreamers to screen in your city
Documentary filmmaker Joseph Hillel's documentary City Dreamers features three Canadian women—Phyllis Lambert, Blanche Lemco van Ginkel, and Cornelia Hahn Oberlander—as well as American Denise Scott Brown. Having all been involved in urbanization since the mid-century growth boom, the documentary follows how these women have been informing the transformations shaping the city of today and tomorrow.
Since the middle of the 20th century, Phyllis Lambert, Blanche Lemco van Ginkel, Cornelia Hahn Oberlander and Denise Scott Brown have worked for and collaborated with some of the leading figures in modern architecture – Le Corbusier, Louis Kahn and Mies van der Rohe – while finding their own voices in the male-dominated world of architecture.
Shot on location in Philadelphia, Montreal, Toronto and Vancouver, City Dreamers features new interviews with the women and reveals rare archival materials that shed light on how our cities have grown from the mid-20th century to today. Told exclusively through the women's voices, this film might reflect a different perspective than the status quo.
The film premiered in Montreal last November, and is set to be  released in 2019.
6. Talk to your favourite woman-architect.
Diversity in the Canadian architecture profession is making strides, but it still has a ways to go: as of 2016, there are 17,205 architects in Canada; 11,665 (68%) of them are male, and 5,540 (32%) of them are female. Given that enrolment in architecture schools has been 50/50 for decades, the gender gap shouldn't be this large.
Joining an organization such as Building Equality in Architecture (with chapters in Toronto, Vancouver, the Maritimes and the Prairies) or Women in Architecture Vancouver can help build the networks of support and mentorship needed for meaningful change. Looking for mentors in your office or community can also be helpful. Change happens at systemic levels, but can also start from the bottom-up.